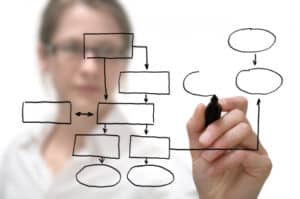 Google considers more than  200 variables when ranking your site against all the other sites out there. Of those variables, one of the most important elements is the number and quality of incoming links, meaning links that are pointing from other website to your own. The general idea is that when another site links to yours, it deems your site content valuable. The more sites see you as valuable, the more Google perceives your value. A link is a link, however there are a few important elements to consider when you're thinking about link building:
1. Not all links are created equal. A link has more value when it comes from a website that matches your industry or content topic. For example, if you own a site that sells skin care products, a link from a spa will be more valuable than a link coming from a roofing company. Also, a link from a website with a high page rank will be more valuable than a link from a site with a low page rank.
2. Never buy links. You can be penalized by Google for buying links, participating in paid "link building" programs, or having inbound links from sites that Google has blacklisted because they have violated Google's guidelines.
3. Organic is always better. Organic links are those that occur naturally and over time. If you have interesting, well-written, and relevant content on your site, your reader base will grow and more sites will begin to link to you. This is organic growth and these kinds of links are very valuable because they build as a result of direct relationships between you and your readers.
4. Consider Directories. Aside from organic links, another legitimate link building activity is directory submission. There are hundreds of article directory sites out there, and because they receive so much content input, they normally have a very high page rank. All content you post to article directories must be unique, because Google is very good at sniffing out duplicated or "spun" content – content that was assembled by copying and pasting from other websites. It is always best to list your site in the most reputable and high-ranking directories. Avoid any offers promising to "List your site in thousands of directories" as they are usually not reputable and could even be blacklisted by Google.
5. Explore other link sources. There are lots of other ways to create links to your website. It may be worth your time to look into these other avenues:
professionally syndicated press releases
business listing services
submitting articles to or commenting on blogs and forums
getting local government or business association links by working with or volunteering for those organizations
submitting product and service reviews on sites like Yelp or Google Reviews
writing submissions in forums that are related to your site's content.
6. Social Networking rocks! This should probably be placed at #1, since it is becoming increasingly important as SEO technology evolves and more and more users are finding and interacting with businesses through social media outlets.  As link building and traffic boosts go, social networks are rock stars. As much as 80% of all your site traffic could be coming directly from your social media accounts. Because social media demands instant attention of its users, its a great way to create a surge of interest in a new product, service or article on your site. Posting links on your social media profile or wall that direct users back to your site gets people from your social network to click to your website, which creates traffic and increases your page rank.  The more outlets you are utilizing, and the more frequently you use them, the more interaction you are creating between yourself and your users.  Not only does this count as 'organic growth' but as a bonus it also promotes brand awareness and loyalty.