Have you ever considered how a bad website design affects your business? Consider this statistic:
A user forms their first impression of your company within 1/20th of a second after viewing your website.
That's faster than they can even read any content…  this lightning-quick judgement is based entirely on the design.  This strengthens the rule that your online appearance is everything. If your site looks good, then you look good, and in turn, your customers will have the confidence to purchase from you.
With 75% of consumers admitting they judge a business' credibility based on their site's design, it can make a real difference in making sure your site ranks well, and a well-designed website that not only has great visual appeal but also a seamless user flow will convert into higher sales.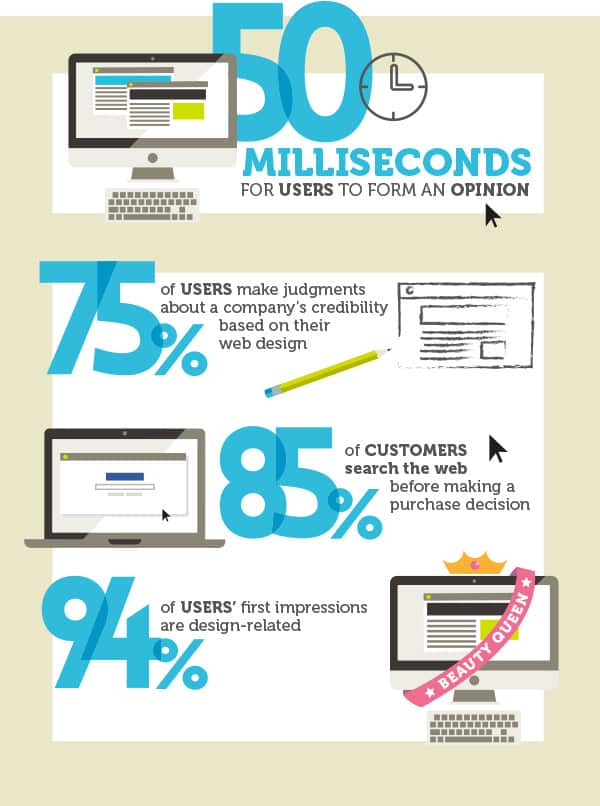 How Does Bad Design Affect Your Business?
Poor design damages your credibility. You may be the best at what you do and your products may be the best on the market, but if your website doesn't reflect that high quality, your credibility and professionalism may as well be non-existent.  75% of users make judgements about a company's credibility based on their web design.  It's as simple as this: users will judge the quality of your services or products by the quality of your website.
Bad design makes you look out of touch with your audience.  A dated website tells your customers you are behind the times, or worse, that you don't care about what your customers want. Visitors could assume you're out of touch with advancements in your industry, and may also think you're neglecting other areas of your business. Users may also wonder if you're still in business if things are years out of date.
A bad website will cost you sales.  Period. 85% of customers search the web before making a purchase decision. Every time a potential customer navigates away in frustration (because of broken links, clutter, or confusing navigation), it is unlikely they will ever return. If your competitor offers the same products or services plus an intuitive website design, they will win the business you could be getting.
Elements that will cause visitors to abandon a site
No visual appeal. A poorly designed site misses the opportunity to gain instant trust and credibility.
Design does not cater to mobile users. Mobile optimization is no longer a buzzword or a trend, but a way of life.
Too much clutter.  Sites that are overloaded with text and graphics are distracting, and end up communicating very little information.  That's the opposite of your website's purpose.
Cliché or poor quality photos. Graphics and images can add a lot of value to websites, but low-quality images make the site look amateurish.
Bad user experiences.  Confusing navigation makes it hard for visitors to find the information they want. No one wants to try to "figure out how to use your website".
Too many colors and fonts. Too many colors and fonts will confuse users and make your website a headache to use.
Some examples of website design so bad, it makes me want to throw a brick at my screen: